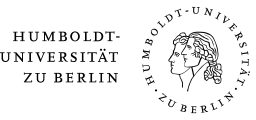 University sports for employees and students
Dear participant,
We offer you an acitve summer!
The new course program for the summer semester 2021 brings a variety of classics, but also many new offers and challenges for you.
The semester will initially start with an online sports program and, as soon as possible, will be supplemented with outdoor, indoor and hybrid courses at short notice. We will inform you via our website and our social media channels when the latter courses are allowed and activated.
The sports program is again divided into two 6-week periods. Both periods can currently be viewed on our website and will be bookable from April 1st. The courses of the second period will be supplemented in the next few weeks and can be booked directly after publication.
You can now view all online courses here: https://hu.berlin/hochschulsportangebote
Booking start: 04/01/21
Course periods: 04/12 - 05/23/21 and 05/31 - 07/11/21
6-in-1 Paket:
With the package "6-in-1 Paket" you get 6 courses over 6 weeks for a small price. Design your own sporty week and attend the 6 courses as often and when you want.
All information and booking of the 6-in-1 Paket from April 12th. is available here: https://zeh2.zeh.hu-berlin.de/angebote/aktueller_zeitraum/_6-in-1_Paket.html
Personal training:
For all those who prefer to train in a 1: 1 supervision, the university sports continue to offer personal training. This is aimed primarily at beginners who want to bring more activity into everyday life or those who are already less active who want to be accompanied on their way. In addition, there is now the option of creating an individual training plan.
You can book your personal training here: https://zeh2.zeh.hu-berlin.de/angebote/aktueller_zeitraum/_Personal_Training_Online.html

#Studichallenge:
Are you still looking for the right challenge for the summer semester and want to do something for your health? Then we will challenge you: The #Studichallenge is going into the second round and from April 19th we will provide you with tasks and tips on the topics of exercise, relaxation, nutrition and homeoffice. From workouts to recipe ideas, trial offers and useful tips on working at home, there is something for everyone. Register, take on the challenge and win great prizes!
All information and registration can be found here: https://zeh2.zeh.hu-berlin.de/angebote/aktueller_zeitraum/_Studichallenge_-_Gesund_zu_Hause.html

>>> Parallel to the sports courses, it is worth taking a look at the GesundZuHause section, as well as Instagram and Facebook (hochschulsport.berlin) to find other offers that will help you stay fit and healthy. <<<
Stay healthy!