Dozent: Dr. Georg Berkemer
Telugu / తెలుగు
Telugu belongs to the Dravidian family of languages, just as well as Tamil, Malayalam, Kannada and Brahui in Pakistan. Like the Indo German languages Hindi and Bengali, Telugu is one of the most commonly spoken languages in India (approx. 80 million speakers). It is the official language of the South Indian provinces Andhra and Telangana. Telugu is popular in South India and along the East coast as a lingua franca and is spoken outside of India by Diaspora-communities in South East Asia and the US. The Telugu of the medieval Ages belongs to the classical languages of India. It is also remarkable that Telugu-movies from Hyderabad enjoy the widest popularity of all Indian movie industries right after the Bollywood-products.
          TELUGU-ALPHABET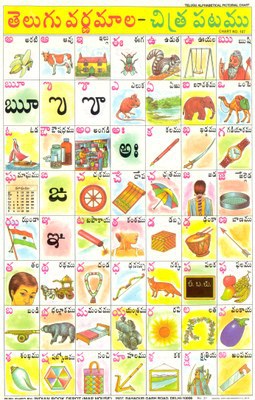 The aim of the Telugu-language training in the BA over a course of four semester is to achieve a language proficiency that is equivalent to the niveau B1 of the Common European Framework of Reference for Languages. In the MA Modern South and South East Asian Studies the BA-courses for Telugu are to be studied if a student does not have any previous knowledge of Telugu.
In the first semester, a basic knowledge of the structure and composition of Telugu is taught which enables the students to a passive and active usage on the simplest niveau. It also mentions cultural peculiarities of the Telugu usage. The alphabet (Telugu/ తెలుగు) ist taught step by step, the correct pronounciation and intonation is practiced and a elementary thesaurus and grammar are learnt. Additionally, students are introduced to to the spoken language through the simulation of daily situations.
In higher semesters the focus is put on the development of basic knowledge in free communication, written expression and in translation through intensive oral and written practice. Understanding (listening, fluent reading), speaking (participation in conversation and autonomous elaborations on distinct topics), (fluent) writing in Telugu are the key abilities that are to be learnt.
In the MA, over the course of two semesters two lecture-courses are to be attended to widen abilities in reading, translating and interpreting of Telugu-texts. The reading of contemporary periodicals and journals (Online and print) with a focus on distinct thematic features as well as modern Telugu-Prose lecture (short stories, passages of belletristic, autobiographies). Variants of key episodes from the old Indian epics Mahabharata / మహాభారతము and Ramayana / రామాయణము in their modern Telugu versions offer a gateway to the rich cultural heritage of India.