8th HIP Workshop - 28th June, 2013 - Invitation
You are cordially invited to participate in the 8th Humboldt India Project (HIP) Workshop which will take place on the 28th June, 2013, Invalidenstr. 118, Room 217, 2.00-7.00 pm.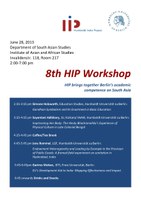 Programme
2:15-3:15 pm Simone Holzwart, Education Studies, Humboldt-Universität zu Berlin: Gandhian Symbolism and its Enactment in Basic Education
3:15-4:15 pm Sayantani Adhikary, JU, Kolkata/ IAAW, Humboldt-Universität zu Berlin: Imprisoning Her Body: The Hindu Bhadramahila's Experience of Physical Culture in Late Colonial Bengal
4:15-4:45 pm Coffee/Tea Break
4:45-5:45 pm Jens Rommel, LGF, Humboldt-Universität zu Berlin: Endowment Heterogeneity and Leading by Example in the Provision of Public Goods: A framed field experiment on sanitation in Hyderabad, India
5:45-6:45pm Garima Mohan, BTS, Freie Universität, Berlin: EU's Development Aid to India: Mapping Effectiveness and Impact
6:45 onwards Drinks and Snacks
Please find the abstracts here.