Waterspace, Empire and Mobility in Southeastern Asia, IAAW-Workshop-1, Friday, June 14, 2013
You are cordially invited to the Workshop 'Waterspace, Empire and Mobility in Southeastern Asia' which will take place on the 14th June, 2013, Invalidenstraße 118, Room 217, 14-20h.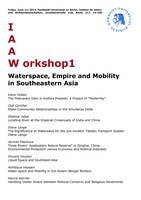 The recent spell of economic growth in India, China and countries across Southeastern Asia, have mostly impacted the Himalayan-Tibetan watershed. Thousands of large and smaller dams, completed or projected, on the Brahmaputra, Irrawaddy, Salwin, Mekong and Yangtze, among others, are set to alter the waterspace of the region in an unprecedented manner. Yet just about half of the world's poor population depend either directly or indirectly on this watershed.
How do historians and social scientists grapple the qustion of maintaining ecological value of the waterspace amid the desire for ecnomic growth in Asia? This broader question would be discussed in this workship at the Institut für Asien- und Afrikawissenschaften at Humboldt-Universität Berlin. The IAAW seems to be a fitting place to engage this question as its different departments represent scholars of Central Asia, South Asia and Southeast Asia where this watershed touches.

In this broader context and platform, the workshop would seek to examine trans-regional forces of the watersapce. In particular, it will study the river as a force of environmental, economic and cultural integration in the territories spanning Bangladesh, India (Northeastern provinces), Myanmar, China (Yunnan) and Southeastern Tibet as well as mainland Southeast Asia.
So far policy-makers, environmentalists and civil society activists have mostly based their approach to rivers on the externalities of the impact of interventions into the river systems, leaving the question of the river as a force in itself less focused. It may be argued that the interactions and exchanges of people, commodities and ideas around the watersapce of this region have given rise to a distinctive integrative force which must be taken seriously. Through such attempt to restore the value of the river as an integrative force, this workshop will seek to recover the 'transnational self' of the river. In doing so, the workshop aims to highlight the aspects of ecological "commons" as inherent in these rivers against the development practices that are spatially framed within the bounded space of the postcolonial nation-state.
Talks:
Klara Feldes: The Polavaram Dam in Andhra Pradesh: a Project of "Modernity"
Olaf Günther: State-Community-Relationsships in the Amudarya Delta
Iftekhar Iqbal: Locating River at the Imperial Crossroads of India and China
Diana Lange: The Significance of Waterways for the pre-modern Tibetan Transport System
Jarmila Ptackova: Three Rivers' Headwaters Nature Reserve" in Qinghai, China: Environmental Protection versus Economic and Political Interests
Vincent Houben: Liquid Space and Southeast Asia
Ashfaque Hossain: Water-space and Mobility in the Assam-Bengal Borders
Hanna Werner: Handling Indian Rivers between Political Concerns and Religious Sentiments
Please find the abstracts here.