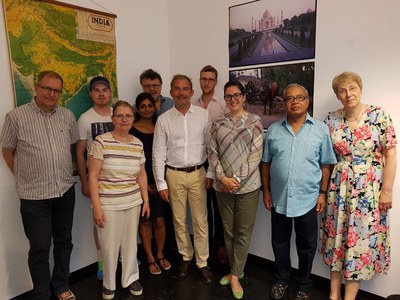 The Department of South Asia Studies at Humboldt-Universität zu Berlin looks back on a long history. Berlin's tradition in Indology has produced big names like Franz Bopp, Albrecht Weber and Heinrich Lüders – pioneers in the study of the languages and cultures of Ancient India. After the Second World War, Humboldt-Universität became the first German university to conduct research and teaching on all South Asian countries.
Today we concern ourselves with a broad range of questions in areas such as urbanization and industrialization, migration and circulation, historiography, and environmental and gender history. A distinctive feature of the curriculum is our expanded focus on Bengal and Pakistan. Our South Asian language offerings include Telugu as well as Hindi and Urdu. Students interested in highly topical media-related issues in South Asia can pursue these in the Cross-Section of Mediality and Intermediality in Asian and African Societies.
What do we frame as South Asia?
South Asia is a part of the Asian continent and is a sum of Afghanistan, Bhutan, Sri Lanka, India, Pakistan, Bangladesh, Maledives and Nepal.
What does the Seminar for South Asian Studies offer?
Bachelor-, Master- and PhD-Studies
Language classes for Hindi, Telugu, Urdu and Bengali
Work facilities within reasearch projects
exchange facilities for international visiting scientists
Which subjects can you study at the Seminar for South Asian Studies?
Bachelor "Area Studies Asia/Africa" (with a focus on South Asia)
Masterprogramme "Modern South- and South East Asian Studies"
PhD in South Asian Studies
In which fields do we conduct research?
town history and history of urbanisation
environmental history
Social and economic history
Migration/circulation
gender history
languages and literatures
intellectual history
history and history of historiography
Who is interested in the topics of mediality and intermediality in South Asia should take courses from the mediality department at our institute with Prof. Nadja-Christina Schneider.  Berlin with its multiple universities, libraries, archives and research institutions, monuments and museums offers an exceptional scientific landscape. Foundations as well as political and economical special interest groups expand the offers and opportunities which can be seized by students and researchers.
More on the history of the department ...