27th Workshop of HIP - Programme/Abstracts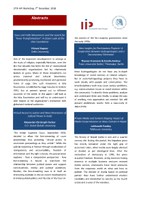 Dear all,

the Department of South Asian Studies, Humboldt-Universität zu Berlin cordially invites you to the

27th Workshop of the Humboldt India Project (HIP)

WHEN?

Friday, 7th December 2018
2:00 pm - 7:00 p.m.

WHERE?
Department of South Asian Studies
Institute of Asian and African Studies
Invalidenstr. 118, Room 217 (2nd Floor)
PROGRAMME
2:15-3:15 pm
HIMANI KAPOOR
Delhi University, India:
Guru Led Faith Movements and the search for "Inner Transformation": A Closer Look at the Isha Foundation
3:15-4:15 pm
ALEXANDER CHRISTOPH FISCHER
O.P. Jindal Global University, Sonipat, India:
Virtual Access to Justice and New Dimensions of Judicial Power in India
4:15-4:45 pm
Coffee/Tea Break 
4:45-5:45 pm 
THERESA FROMMEN & KATALIN AMBRUS
Freie Universität, Berlin/ Independent Filmaker, Berlin:
New Insights for Participatory Projects– A Cooperation between Hydrogeologists and a Documentary Filmmaker
5:45-6:45 pm 
LEKHANATH PANDEY
Tribhuvan University, Nepal:
Private Media and Content Shaping: Impact of Media Corporatization on News Content in Nepal
6:45 pm

onwards
Please forward the programme to those who may be interested.
No registration necessary. Students are encouraged to attend.
For more information see the attachments.

Contact:
Anandita Bajpai, Dept. of South Asia Studies, IAAW, Humboldt–Universität zu Berlin/Leibniz-Zentrum Moderner Orient
bajpai.anandita@hu-berlin.de/ Anandita.Bajpai@zmo.de