28th Workshop of HIP - Programme/Abstracts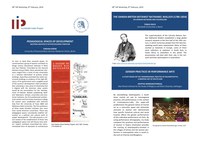 Dear all,

the Department of South Asian Studies, Humboldt-Universität zu Berlin cordially invites you to the
28th Workshop of the Humboldt India Project (HIP)

WHEN?

Friday, 8th February, 2019
2:00 pm - 7:00 p.m.

WHERE?

Department of South Asian Studies
Institute of Asian and African Studies
Invalidenstr. 118, Room 217 (2nd Floor)
PROGRAMME

2:15-3:30 pm
FARHAN KARIM
University of Kansas/Leibniz-Zentrum Moderner Orient, Berlin
Pedagogical Spaces of Development: Western Architects in Postcolonial Pakistan
3:30-3:45 pm
Coffee/Tea Break
3:45-5:00 pm
TOBIAS DELFS
Seminar für Südasienstudien, Humboldt Universität zu Berlin
The Danish-British botanist Nathaniel Wallich (1786-1854), his German network and colonialism
5:00-6:15 pm
ASHITHA MANDAKATHINGAL
Max Planck Institute for the Study of Religious and Ethnic Diversity, Göttingen
Gender Practices in Performance Arts: A study based on the trans-regional practice of Kalaripayattu, a martial art of South Asia
6:15 pm onwards
Please forward the programme to those who may be interested.
No registration necessary. Students are encouraged to attend.
For more information see the attachments.

Contact:
Anandita Bajpai, Dept. of South Asia Studies, IAAW, Humboldt–Universität zu Berlin/Leibniz-Zentrum Moderner Orient
bajpai.anandita@hu-berlin.de/ Anandita.Bajpai@zmo.de