29th Workshop of HIP - Programme/Abstracts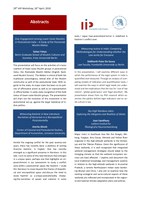 Dear all,

the Department of South Asian Studies, Humboldt-Universität zu Berlin cordially invites you to the

29th Workshop of the Humboldt India Project (HIP)


WHEN?

Friday, 26th April, 2019
2:00 pm - 7:00 p.m.

WHERE?
Department of South Asian Studies
Institute of Asian and African Studies
Invalidenstr. 118, Room 217 (2nd Floor)
PROGRAMME
2:15-3:15 pm
SALWA YAHYA
Berlin Graduate School of Muslim Societies and Cultures, Freie Universität Berlin
Civic Engagement among Lower-Caste Muslims in Postcolonial India– A Study of the Pasmanda Muslim Mahaz
3:15-3:30 pm
Coffee/Tea
3:30-4:30 pm
AMRITA GHOSH
Center of Colonial and Postcolonial Studies, Department of Humanities, Linnaeus University
Witnessing Kashmir in New Literature: Narratives of Horrorism in a Necropolitical Postcoloniality
4:30-4:45 pm
Coffee/Tea
4:45-5:45 pm
SIDDHARTH PETER DE SOUZA
Faculty of Law, Humboldt-Universität zu Berlin
Measuring Justice in India: Competing Methodologies for understanding whether the Law works for Everyone
5:45-6:00 pm
Coffee/Tea
6:00-7:00 pm
JAYA UPADHAYAY
Alexander von Humboldt International Climate Protection Fellow
Leibniz-Institut for Ökologische Raumentwicklung
Sky-High Rainbow Lakes – Exploring the Allegories and Realities of Water
7:00 pm onwards
Please forward the programme to those who may be interested.
No registration necessary. Students are encouraged to attend.
For more information see the attachments.

Contact:
Anandita Bajpai, Dept. of South Asia Studies, IAAW, Humboldt–Universität zu Berlin/Leibniz-Zentrum Moderner Orient
bajpai.anandita@hu-berlin.de/ Anandita.Bajpai@zmo.de