Gastwissenschaftlerin Dr. Vandana Joshi
Dr. Vandana Joshi teaches at the IAAW in the summer term 2014 and in the winter term 2014/2015.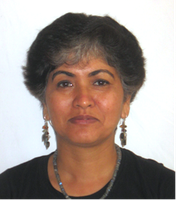 Contact
Office: Invalidenstr. 118, Room 205
Telephone: +49 (0)30 2093-66042
E-Mail: joshivan@hu-berlin.de
Consultation Hours: Tuesday, 12—13
                           Wednesday, 12-13
Dr. Vandana Joshi teaches at Sri Venkateswara College, University of Delhi. She learnt German language, literature and history, Indian history and gender history at the Jawaharlal Nehru University and University of Delhi before coming to Germany as a DAAD fellow in 1995. She obtained her doctorate in 2001 from the Centre for Interdisciplinary Research on Women and Gender (ZIFG), Technical University, Berlin, under the supervision of Prof. Dr. Karin Hausen.
Since then she has received several honours and research awards such as the Fraenkel Prize in Contemporary History, Erasmus Mundus Visiting Fellowship, Charles Wallace India Trust Grant, MPI Geschichte Visiting Fellowship and recently, the Alexander von Humboldt Fellowship. Her ongoing research, "Wartime Sexuality: State Policies and Social Practices in Germany and Britain in WWII 1939-45" focuses on unwanted sexual relations between native women and prisoners of war or Black American GIs in World War Two, an embarrassing fact for the two nation-empires and an everyday lived reality for 'the many' who retained their zest and love of life in an atmosphere of hatred.