Gastwissenschaftlerin Sayantani Adhikary
Frau Sayantani Adikhary ist von April 2013 bis September 2013 Gast am Seminar für Südsaien-Studien. Sie ist Stipendiatin der Konrad-Adenauer-Stiftung.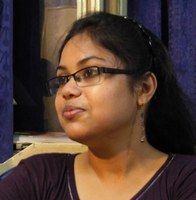 Sayantani Adhikary (D.O.B - 28.08.1980) is currently working as Senior Research Fellow in the Department of History, Jadavpur University, Kolkata, India. She was a visiting fellow at the Institute for Asian and African Studied, Humboldt University, Berlin, from April 2013 to August 2013. Sayantani completed her Masters in History from Jadavpur University with First class in 2004 and taught as a Guest Lecturer in Asutosh College from 2004 to 2009. She is currently doing her Ph.d on the topic titled "Politics of Physical Culture in Colonial Bengal, 1867-1947" under Dr. Sudeshna Banerjee, Department of History, Jadavpur University.
Her PhD dissertation focuses upon the interface between emerging national consciousness in colonial Bengal in the late eighteenth and early nineteenth century and the world of physical culture. The thesis does not miss the coincidence between the bhadralok's interest in physical culture and the emergence of anti-colonial nationalism. But, while recognizing the connection between the eagerness of the bhadralok nationalism for physical culture as a reaction to the colonial ascription of effeminacy on the middle class educated Bengali male, the thesis also seeks to raise the question as to whether historically this was the only determinant of the bhadralok enthusiasm for physical culture from the end of the nineteenth century. Secondly, the thesis identifies that the world of physical culture was a highly diversified sphere. The dissertation therefore tries to examine the different ideological positions that were at work in the revived world of physical culture.