Profile and Teaching
|
Academic Positions/Qualifications
|
Publications
Foto

Name

Dr.

Anandita

Bajpai

Email

AnanditaBajpai (at) gmail.com , Anandita.Bajpai (at) zmo.de , bajpai.anandita (at) hu-berlin.de
---
External institution

Leibniz-Zentrum Moderner Orient Kirchweg 33 14129 Berlin, Germany

Visiting address

Invalidenstraße 118

, Room 216

Phone number

Fax

(030) 2093 66048

Mailing address

Unter den Linden 6, 10099 Berlin
Anandita Bajpai is faculty at the Department for South Asian Studies, Institute for Asian and African Studies, Humboldt University, Berlin, Germany and a research fellow at the Leibniz-Zentrum Moderner Orient (Centre for Modern Oriental Studies) Berlin. She was awarded her PhD by Leipzig University, Germany and did her MA in Global Studies at the Universities of Leipzig, Germany and Vienna, Austria after her BA in Political Science Honours at Delhi University.
She is the author of Speaking the Nation: The Oratorical Making of Secular, Neo-liberal India (2018) and The Catholic Church as an Education Provider in Puerto Rico 1948-60.
Her Habilitation project, Entangled Presences: The Cultural Politics of India-GDR Relations during the Cold War, focuses on the history of entanglements among university intellectuals, theatre circuits, Friendship Societies and diplomatic circles in New Delhi–East Berlin and Kolkata during the Cold War years. She is also tracing the history of Radio Berlin International, a radio station based in East Berlin, which did programmes for Indian audiences in Hindi from 1967-1990.
Her recent research interests are varied in nature- ranging from oral history and radio fans in sub-urban and rural India, an ethnographic study of Ola and Uber taxi services in Indian cities, a historical study of the sound recordings of Indian soldiers during WWI, who were taken to a prison camp near Berlin in Germany, to the shifts in Partition historiography. She is a research fellow in the DFG funded Modern India in German Archives, 1706-1989 project, which catalogues India related sources to be found in German Archives into an open-access database. She is the co-editor (with Dr. Heike Liebau) of the project's open-access online Archival Guide (see: www.projekt-mida.de).
Research Focus: South Asia, especially India; India–The German Democratic Republic–The Federal Republic of Germany entanglements
Research Area(s): Cold War History, Translocal Sonic History (focus on Radio during the Cold War years), India-German Democratic Republic Cultural Relations, intellectual history of India-East Germany entanglements, Digital Humanities, Political Oratory/Rhetoric in India, secularism and nationalism in India
CURRENT RESEARCH PROJECT
Entangled Wavelengths: Translocal Affect and Affiliation among Radio Broadcasters and Listeners of German International Radio Stations in Cold War India,1964-1990.
This research project investigates the mutual entanglements of the cultural, political, and affective radiophonic repertoires devised by the two iconic German international broadcasting services, Radio Berlin International from the German Democratic Republic (GDR) and Deutsche Welle from the Federal Republic of Germany (FRG), during the Cold War years in India.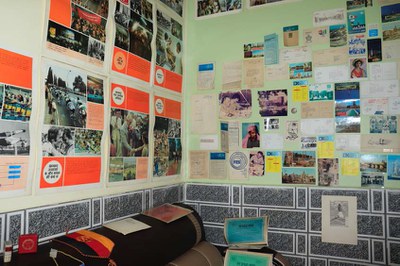 Recreation of a Radio Berlin International-GDR Exhibition at Mr. Arvind Srivastav's residence in Madhepura, Bihar, March 2019. The wall to the left exhibits posters sent to Srivastav by RBI and the wall to the right is a depiction of some of the QSL cards, postcards and reception letters sent to the collector. Photograph Anandita Bajpai
Rather than limiting these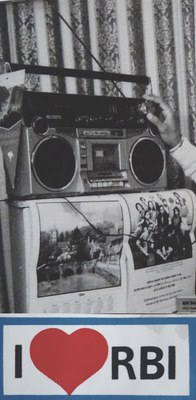 entwined, often competing, trajectories of the two radio stations to a reductive comparison, the Indian perspective promises to reveal their complex histories as entangled and overlapping. How did India become a site for sonically mapping Cold War affiliations, and how did Indian actors respond to, profiteer from, and even co-shape inter- German competitive acoustic presences in the transnational space of radio broadcasts? It probes into the interstitial affective spaces made of voices, ears and postal feedback, between the microphones in Bonn and Berlin and local radio sets in India.
The project is interdisciplinary in different regards: it mobilises both historical and anthropological methods including archival, oral historical and ethnographic research. It thus promises to combine and engage with theoretical debates from the fields of Cold War history, the history of emotions and a historical anthropology of material culture.