Indonesian Journal of Islam and Muslim Societies
Indonesian Journal of Islam and Muslim Societies has the perspectives of humanities and social sciences. This journal also has programs aimed at bridging the gap between the textual and contextual approaches to Islamic Studies; and solving the dichotomy between 'orthodox' and 'heterodox' Islam. The two were linked: the textual tradition showed that Islam was, as well as a set of religious tenets, a way of approaching the practical economic and social challenges of life. So, this journal invites the intersection of several disciplines and scholars. In other words, its contributors borrowed from a range of disciplines, including the humanities and social sciences.


Editorial Team

Editor in Chief: Zakiyuddin Baidhawy

Editors: Noor Malihah, Ahmad Najib Burhani, Al Makin, Asfa Widiyanto, Hilman Latief,Muhammad Irfan Helmy

Advisory International Editorial Boards: Muhamad Ali, Ben Murtagh, Zain Imtiaz Ali, Wan Hasmah Wan Mamat, Ahmad-Norma Permata, Hyung Jung Kim, Azhar Ibrahim Alwee, Hisanori Kato, Stephan Conermann, Richard G Kraince, Nelly van Doorn-Harder, Julia Day Howell, Muhammad Amin Abdullah, Habib Chirzin, Claudia Derichs

Language Advisor: Saad Boulahnane
Neue Politische Literatur – Berichte aus Geschichts- und Politikwissenschaft
The "Neue Politische Literatur" reports on research related to modern German, European, and non-European history (19th–20th century), as well as on research in the fields of theory-based and historically oriented political science. Special attention is paid to power and supremacy, to forms of inequality, and to dictatorial and authoritarian regimes. The "Neue Politische Literatur" concerns itself with questions about democracy in the past, the present, and the future.


Editors

Claudia Derichs, Christof Dipper, Jens Ivo Engels, Angelika Epple, Dirk Jörke, Peter Niesen, Alexander Nützenadel, Jürgen Osterhammel, Lutz Raphael, Emanuel Richter, Wolfgang Schieder, Ute Schneider, Peter Steinbach
Nahoststudien. Middle Eastern Studies
The series of publications entitled "Nahoststudien. Middle Eastern Studies" adopts an interdisciplinary approach to dealing with the Near and Middle East regions. Accordingly, it not only broaches the topic from a sociological perspective but also from the points of view of related subjects like culture, social geography and law. In addition to recording empirical data and reflecting on current transformation processes, these studies focus on issues from contemporary history which relate to politics, economics, society and culture. The publishers of this volume do not see the region as a closed entity but instead strive to depict its mutual inclusion in the international system and the local, national, regional and international dynamics resulting therefrom.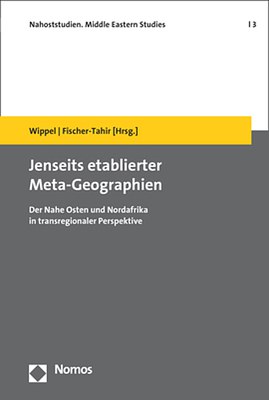 Editors

Thomas Demmelhuber, Claudia Derichs, Georg Glasze, Mathias Rohe, Stephan Roll