Workshop 'Life of Muslims in Germany' in Cooperation with Goethe Institut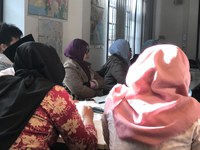 On Friday 13th October, 2017, a group of Indonesian students and academics took part in a workshop arranged by Cross Section Islam in Asian and African Societies and the Goethe Institut, discussing the current state of Islamic Studies in Germany. After a short introduction from coordinator Prof. Dr. Manja Stephan-Emmrich, three IAAW PhD candidates Aleah Cornley, Aybek Momumjanov, and Syaifudin Zuhri presented their respective research (listed below), before the two groups came together and discussed current issues facing, not only Islamic Studies, but Muslim life in Germany and around the world.
| | |
| --- | --- |
| Speaker | Topic |
| Aleah Cornley | Towards a Theory of the Dynamics of Islam and Local Politics in Middle Indonesia. |
| Aybek Momumjanov | Islamic Tablighi Practice - a Pathway to Inter-Ethnic Integration in Kyrgyzstan? |
| Syaifudin Zuhri | Shrine Making and contesting the Sacred. Muslim Pilgrimage in Contemporary Bali. |
For more information on the project 'Life of Muslims in German', please click here.