The University of Dar es Salaam (UDSM), founded in 1970 (its predecessor was the University College, 1961-1970), has been known as a focal point of critical academic thinking in East Africa since the beginning of its existence. Since 1998, UDSM has been a partner university of HU, so that almost every year several Humboldt students could go to Dar es Salaam for a semester abroad.
Since 2011, Tanzanian students have been able to participate in the HU Summer School for the first time, and there is an exchange of academics in both directions. The College of Arts and Social Sciences is particularly attractive, as are the Departments of Foreign Languages and Linguistics, History and Literature. In addition, Sociology, the Department of Fine and Performing Arts and Development Studies enjoy a very good reputation.
A particular asset of this primarily Anglophone university for African Studies students is the Swahili teaching and research housed at Taasisi ya Taaluma za Kiswahili (TATAKI), the national and East Africa's leading Swahili research institute.
Even regardless of subject knowledge and interests, Swahili (pre-)knowledge is a great advantage for studying at UDSM. A semester abroad is recommended for the fourth or fifth semester; in the decision-making process, experience reports of fellow students who have already done so can be viewed.
You should inform yourself in detail about the written application formalities for the exchange place of the partner university as well as the scholarship programs of the DAAD on the web pages of the International Department and then  seek personal advice there from Ms. Brodien. Afterwards or parallel to this, you will receive advice on the content of your studies as well as assistance in networking with other students from Dr. Lutz Diegner.
The university in Senegal's capital Dakar is named after the Senegalese Egyptologist Cheikh Anta Diop (1923-1986), a researcher who has helped shape the profile of what is probably the most renowned francophone university in West Africa to this day. UCAD was founded in 1957 and is still Senegal's largest university with a current student population of approximately 80,000. The language of instruction is exclusively French; a very good knowledge of French is therefore essential even before beginning studies in Dakar. However, it is also possible to attend in-depth French courses at the INSTITUT DE FRANÇAIS POUR LES ETUDIANTS ETRANGERS (IFE).
There is no "African Studies" subject at UCAD; rather, all of the humanities represented offer Africa-related teaching, often with a focus on francophone West Africa. The history, literature, and linguistics disciplines you are familiar with from Berlin are concentrated at the FACULTE DES LETTRES ET SCIENCES HUMAINES (FLSH). In addition to the corresponding courses at the Département d'histoire (History Department), the Département de Lettres modernes (Modern Literatures; by which is meant here primarily French-language literatures), the Département d'anglais (Anglophone Literatures), and the Département de linguistique (Linguistics Department), you can also take philosophy, sociology, geography, Arabic, or intercultural German studies at FLSH. At the Faculty of Education, FASTEF, which is in charge of teacher training, literary studies, history, geography and philosophy are also taught. It may be useful to choose something suitable from the courses offered here as well.
Foreign students are generally free to choose which seminars they would like to participate in; however, it should be discussed individually with the lecturers whether participation is possible and which examination options exist. The CENTRE DE LINGUISTIQUE APPLIQUÉE DE DAKAR (CLAD)/Language Center, which is affiliated with FLSH, offers courses in the national languages Wolof, Peul (Fulfulde), Serer and Joola for a fee. Also affiliated with UCAD is the renowned humanities research center IFAN (Institut Fondamental d'Afrique Noire), which offers its own research library in addition to the central university library and the smaller libraries of the individual subjects.
With a population of more than one million - including the surrounding sprawling suburbs such as Pikine and Guediawaye - and an infrastructure that has been modernized in the inner city in recent years, Dakar is a lively metropolis with a wide range of cultural activities and the presence of numerous local and international organizations where internships can also be completed. The cost of living is relatively high, but places in the overcrowded student dormitories are rare. The academic year begins in October, but often a few weeks later due to student or faculty strikes.
Internet presence of the university: www.ucad.sn
Contact person: Susanne Gehrmann
Faculté des lettres © Anne M. Carovani

Institute Fondamental de l'Afrique
Noire (IFAN) © Anne M. Carovani
Stellenbosch University has a long tradition in the Cape region and its beginnings date back to the late 17th century. Even today, one can find traces of its historical heritage, which persists among numerous modern facilities. Stellenbosch is a well-organized university town with just over 30,000 students (with about 3,000 international students). It is located in the middle of the Boland wine-growing region, and the town is surrounded by a picturesque mountain backdrop that invites hiking and exploring. Cape Town is just under an hour away by car (50km; it takes a bit longer by train), so it's easy to visit the Cape metropolis from Stellenbosch. Students dominate the cityscape in Stellenbosch and populate the numerous bars and cafes.
The university has an excellent reputation, both in South Africa and beyond. The arts and social sciences form one of the ten faculties. Here, students of the Department of African Studies will find good connections in one of the numerous institutes:
Art Studies: Theater, Music, Visual Arts, Visual Studies
Literary Studies: Afrikaans, English, French
Linguistics: Dutch, General Linguistics and Modern Foreign Languages
Social Sciences: Geography and Environmental Studies, History, Information Sciences, Journalism, Philosophy, Political Sciences, Psychology, Social Work, Sociology and Social Anthropology
In addition, there are various research centers dedicated to specific subject areas. An insight into current cultural activities and debates at the Institute of English Studies can be found in the online magazine SLiP (Literary Project Stellenbosch).  .
Courses at Stellenbosch University are taught in English and Afrikaans - often in both languages. Afrikaans language courses are offered for international students. The International Office at Stellenbosch University provides excellent and all-round support, from arrival and departure and accommodation to study arrangements and other details.
Internet presence of the university: http://www.sun.ac.za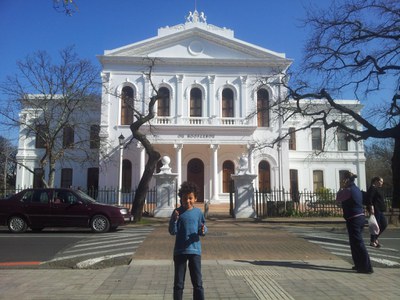 Campus Stellenbosch © Susanne & Sadiki Gehrmann
The cooperation agreement with the Université de Lomé was signed in 2013. A stay at this francophone university in the lively capital of Togo is particularly interesting due to the German-Togolese colonial past, which plays a major role in research and teaching, especially in the subjects of history and intercultural German studies. Lomé is an important commercial metropolis in West Africa.
The university was initially founded in 1970 under the name Université du Bénin (after the Gulf of Benin, on which the city of Lomé is located) and is the largest university in the country with more than 40,000 students. Students of African Studies can choose from the subjects at the Faculté des lettres et des sciences humaines (in addition to the classical subjects of linguistics, history, literature (lettres modernes = French-language literatures, English studies, German studies) also communication and media studies, sociology and anthropology) to put together an individual and interesting program. Advanced students have the opportunity to conduct research in the archives of the city's German colonial era.
The program can also be combined with an internship at the Goethe-Institut, the only German cultural institution in Africa to date that is run exclusively by local staff and provides an important forum for theater, literature and art in Togo. Instead of a full course of study, it is also possible to take French courses for foreigners at the Village du Bénin, which is affiliated with the university, during the semester break.
Internet presence of the university: www.univ-lome.tg
Further information through Susanne Gehrmann or Joel Glasman.
The University of Nairobi, abbreviated UoN, is the largest university in Kenya. Its roots date back to 1956; like the University of Dar es Salaam, it was part of the University of East Africa together with Makerere University in Kampala, Uganda, before 1970, and has since been an independent flagship of teaching and research in the entire East Africa region. Famous personalities who have worked at UoN include the continent-wide known philosopher Henry Odera Oruka (1944-1995) and the environmental activist and Nobel Peace Prize laureate Wangari Maathai (1940-2011).
Former loose partnership relations of HU with the University of Nairobi have been intensified since 2013 at the instigation of the Seminar for African Studies. Within the framework of student and scholar exchanges, UoN colleagues and students have been regular guests at our seminar since 2015; a joint research project on 'Labour and Leisure in Artistic Production and Performance' is currently being developed by UoN and HU colleagues.
The partnership activities of the Seminar for African Studies focus on the Faculty of Arts and Social Sciences of the UoN, in particular the Department of History, the Department of Linguistics and African Languages, the Kiswahili Department and the very broad Department of Literature. Thanks to the exceptionally good cooperation with Prof. Peter Wasamba (Department of African Oral Literatures), annual cooperation symposia and workshops have been organized since 2016.
All subjects are taught in English at the UoN; students with an East African focus will benefit most from a semester abroad at the UoN. As with our other African partner universities, we generally recommend the fourth (Master's) or fifth semester (Bachelor's) as the ideal time for such an endeavor.
You should inform yourself in detail about the written application formalities for the exchange place of the partner university as well as the scholarship programs of the DAAD on the web pages of the International Department and then first seek personal advice from Ms. Brodien. For your decision-making process, you can consult the experience reports of fellow students. Afterwards, or parallel to this, you can seek advice from Dr. Lutz Diegner on the content of your studies and on networking with other students.
Internet presence of the university: //www.uonbi.ac.ke
Contact person: Dr. Lutz Diegner
Eindrücke vom Campus der Universität Nairobi © Isabel Schröder
The University of Pretoria prides itself in offering international students a safe and stimulating environment in which to learn, and also to experience the vibrant culture of South Africa's capital city.  Situated in Gauteng Province, the University offers easy access to no less than five neighbouring universities, the National Library, national, institutional and private archives, museums, galleries and other arts and culture precincts.
International students can choose from a vast offering of undergraduate and postgraduate modules (both lecture and seminar-styled) in the Faculty of Humanities. The Department of Historical and Heritage Studies offers students modules in Global history, South African History and Heritage and Cultural Tourism.  At postgraduate level, Prof Alois Mlambo's seminar on modern African history has enjoyed great popularity from students from South Africa, Africa and further abroad.  Dr Thula Simpson offers courses related to his research on the history of the African National Congress and Dr Nisa Paleker offers opportunities in African Film History.  The Department of Anthropology and Archaeology has experienced impressive growth over the past few years thanks to the initiatives and input of Prof John Sharp with the Human Economy Programme . Archaeologists like Prof Innocent Pikirayi , Dr Alexander Antonites and Dr Ceri Ashley expose students to practical work on sites ranging from late Iron Age World Heritage Sites like Mapungubwe to failed mission stations in Botswana. The Sociology Department offers courses popular with exchange students, especially the Industrial Sociology programme with its focus on the platinum mining complexes around Rustenburg, led by Prof Andries Bezuidenhout. The Division for Visual Culture Studies presents undergraduate courses on visual colonialisms, visual and textual literacies, gender and feminism in postcolonial spaces. At postgraduate level they teach visual research methodologies and also focus on the politics of space.  The co-ordinator of this division is Prof Amanda du Preez.
Representatives from all three clusters in the humanities recently also joined forces to launch a taught Master's programme in African-European Cultural Relations, The courses in cultural theory, cultural history and philosophy offered in this programme already proved highly relevant to exchange students from the University of Konstanz, because of the aim of de-centering the European Gaze in these courses. Besides the formal courses, this MA programme also includes a Legotla component, which offers students a highly interactive discussion forum
The School for Languages in the UP Humanities Faculty enable undergraduate students to study Afrikaans, English, Northern Sotho (SePedi), isiZulu, isiNdebele, Spanish, French, Portuguese and German.  French specialist Annemarie de Beer coordinates research on genocide narratives in Francophone Africa, and offers an honours course on biography writing, Germanist Stephan Muehr's research on genocide literature in Namibia also resonates in his postgraduate teaching.  Marcelene Massoua teaches courses in translation. Polo Moji from neighbouring Lesotho is a postdoctoral fellow in French. Besides having initiated a Gender Research group in the Faculty, Dr Moji's work on womanism and her innovative application of Glissant's writings to southern Africa, add to the offering of the Dept of Modern European Languages. As from 2014, this Department also offers courses in Portuguese, increasing the Department's embeddedness in the Southern African region and its commitment to facilitating research in and on Africa.
For further information, students are welcome to write directly to Prof Lize Kriel, Visual Culture Studies, Department of Visual Arts: Lize.Kriel@up.ac.za.
Please also visit the website of the University of Pretoria: Faculty of Humanities and Department of Visual Arts.
Eindrücke vom Campus der Universität Pretoria © Laura Mareski
The cooperation agreement with the University of Ibadan exists since 2016; several delegation visits, workshops and research stays as exchange between HU African Studies and colleagues from Ibadan have already taken place.
The University of Ibadan was founded in 1948 and is the oldest university in Nigeria, which is reflected in its motto 'The oldest is the best'. Well-known alumni of the university include Chinua Achebe and Wole Soyinka. During the British colonial period, the institution was still part of the University of London before it was granted the status of an independent state university in 1962. In the same year, the Institute of African Studies (IAS) was opened as an interdisciplinary research institute. Also affiliated with the university is the Yoruba Language Centre, where (paid) Yoruba language courses can be taken (https://www.facebook.com/pg/Yoruba-Language-Centre-University-of-Ibadan-Ibadan-Nigeria-692246664152579/about/).
The University of Ibadan is considered one of the best universities in Nigeria, and enjoys an excellent reputation worldwide, especially in the humanities. With approximately 35,000 students, it is also one of the largest universities in the country.
Bachelor's and master's students can study at the Faculty of Art (https://arts.ui.edu.ng/)in one of the many departments: Arabic and Islamic Studies, English, European Studies (German, Russian, French> Francophone African literature is also taught here), History, Linguistics and African Languages, and Theatre Art. Master students can additionally choose from the courses offered by the Institute of African Studies (https://ias-ibadan.org/). There, students have the opportunity to earn master's degrees in African studies with the following concentrations: Anthropology, African History, African Visual Arts, African Music, African Law, Traditional African Medicine, Cultural and Media Studies, Diaspora and Transnational Studies, Gender Studies, and Transformation Studies in Africa.
As a typical campus university with good infrastructure (on-campus housing and shopping), the University of Ibadan is located 8 km from the city center. With over 3 million inhabitants, Ibadan is one of the largest cities in Nigeria, but life is somewhat quieter than in the 20 million metropolis of Lagos, which can be reached by car in two or three hours.
Consultation: Prof. Dr. Susanne Gehrmann
susanne.gehrmann@rz.hu-berlin.de
Universität Ibadan © Susanne Gehrmann